Back List
Astronergy is recognized as TOP Brand PV 2023 by EUPD Research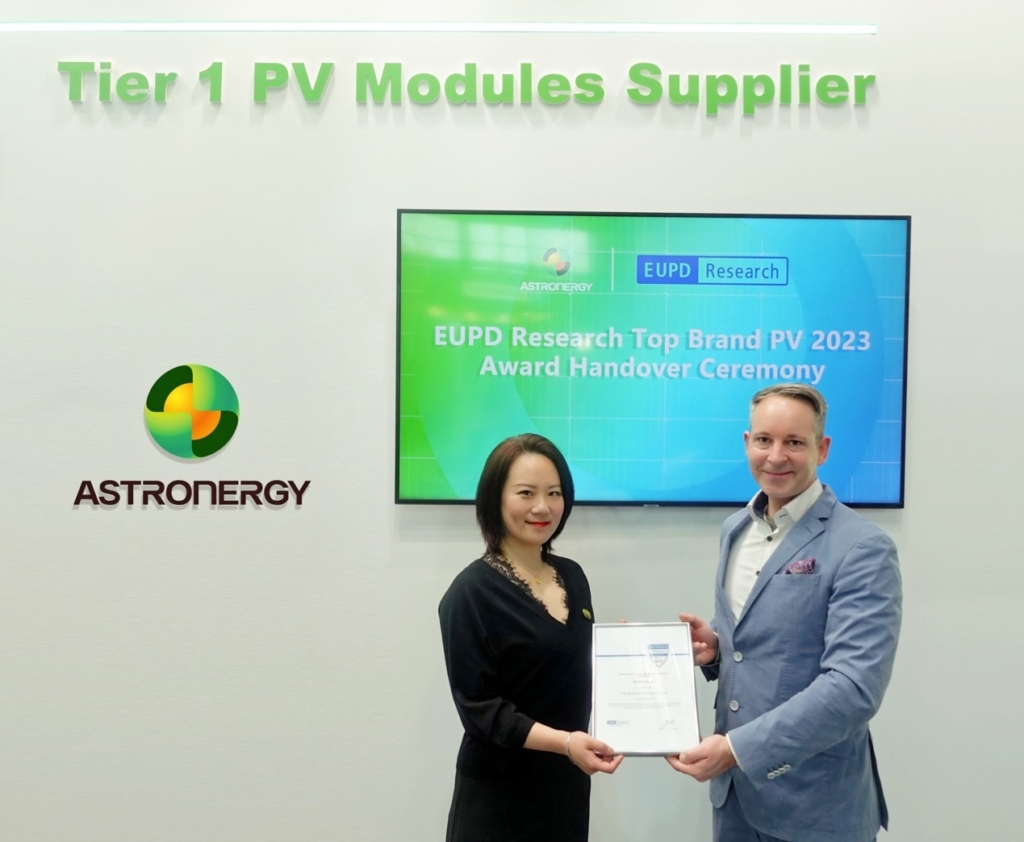 On March 23, EUPD Research awarded Astronergy the 'TOP Brand PV 2023' seal for the German market at Key Energy – an important energy transition expo in Europe, perfectly made the Astronergy booth to the core of the show, demonstrating Astronergy's bright performance in the German market and European region.
Globally recognized as a leading certification body within the PV industry, EUPD Research has over 20 years of experience in measuring and analyzing installer and end-user brand awareness. The 'TOP Brand PV' awarded by it enjoys a high reputation and great recognition in the PV industry.
Recognizing Astronergy as a Top Brand in the PV module category, the seal was presented by Daniel Fuchs, Vice President of EUPD Research, to Isabella Ni, Global Marketing Director of Astronergy.
German market is highly competitive, said Markus A.W. Hoehner, President & CEO, EUPD Research, Astronergy's qualification on TOP Brand PV is a great certificate that it has successfully convinced local installers again in brand awareness, distribution and customers' recommendation.
Based on a survey conducted by EUPD Research and data from Astronergy, Germany has become the first over-1GW shipment overseas market of Astronergy in 2022.  And at the end of February this year, 154.4MWdc ASTRO N5 TOPCon PV Modules finished their journey to Germany and were ready to materialize Europe's biggest TOPCon PV plant in Döllen (Brandenburg), that's a huge support for Astronergy to gain the TOP Brand title.
The TOP Brand title is a recognition of our comprehensive strength, said Isabella at the awarding ceremony. In the future, she added, we will continue to provide high-quality products and services to make Astronergy the best choice for more installers, distributors, and customers, and make more efforts for the sustainable development of Germany.
Pioneered in mass production of n-type TOPCon PV Modules, Astronergy's expertise in R&D, production and sales of high-efficiency crystalline silicon PV cells and PV modules has seen its growing influence worldwide. In 2023, Astronergy will keep its insistence on TOPCon PV cell tech and work to achieve a module production of 48GW.