Back List
Astronergy gets TÜV Rheinland world's first PV industry zero-carbon factory certificate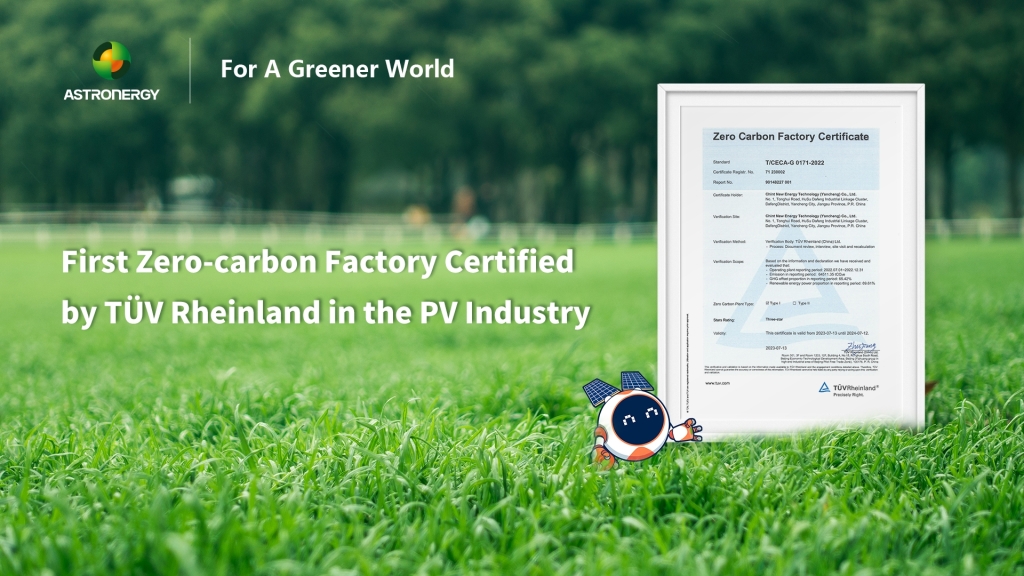 After two months' upgradation and verification process, Astronergy Jiangsu Yancheng Manufacturing Base (Yancheng Base) got TÜV Rheinland world's first PV industry zero-carbon factory certification on July 17, marking one more signpost of Astronergy's practices for a greener world.
According to TÜV Rheinland's verification, Yancheng Base got three-star rating and successfully obtained the Zero Carbon Factory (Type 1) Certificate, which is recognized by the China Energy Conservation Association.
To upgrade more zero-carbon factories, earlier in June, Astronergy has reached cooperation with TÜV Rheinland, which is one of the participating units of the global first complete and quantifiable zero-carbon factory construction standard and evaluation rules - the 'Evaluation Specification of Zero-carbon Factory' (T/CECA-G 0171-2022), and one of the first batch of zero-carbon factory evaluation and certification service institutions.
In accordance with the evaluation rules and with help of TÜV Rheinland, by the end of 2030, Astronergy will have at least seven more factories that achieve comprehensive zero carbon emissions performance through technical measures such as energy conservation, emission reduction, and carbon elimination during factory planning and design, construction, management, and manufacturing processes.
Under the CHINT Group, Astronergy is an intelligent manufacturing enterprise focusing on photovoltaic cells and modules. Founded in 2006, it is one of the earliest private enterprises in China to set foot in the photovoltaic field. And it is a pioneer in n-type TOPCon PV modules.
Committed to be the most competitive photovoltaic modules supplier worldwide, Astronergy sets its mission to create a sustainable and net-zero carbon world with solar power. Focusing on R&D, production and sales of high-efficiency crystalline silicon PV cells and PV modules, Astronergy has continuously launched the ASTRO series high-efficiency, high-quality, high-performance modules. Big-size wafer tech enables both bifacial and monofacial ASTRO series modules could be perfectly applied in all scenarios such as utility-scale power stations, commercial & industrial (C&I) PV systems and residential PV systems. Pioneered the mass production of n-type TOPCon PV modules and Astronergy keeps leads in n-type TOPCon PV cell tech.