Back List
Astronergy TOPCon products gain in popularity at Solar & Storage UK 2023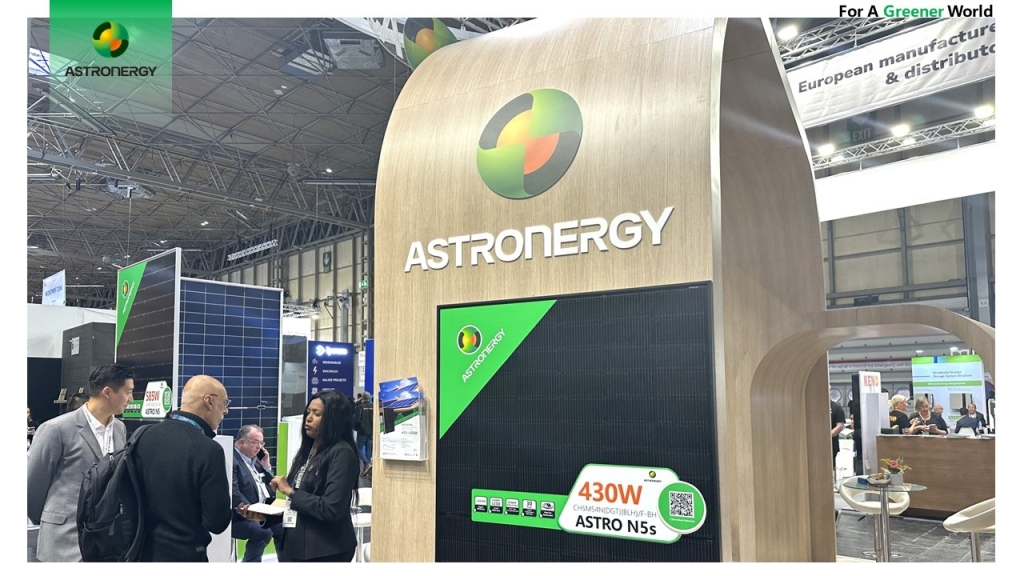 The three-day exhibition held from Oct 17th to Oct 19th at Solar & Storage Live UK in Birmingham saw the frontier n-type TOPCon solar tech from Astronergy, attracting people out and in the PV industry to come and visit, and making Astronergy's reputation as a pioneer in n-type TOPCon PV modules spread known by more.    
Considered the largest exhibition in the energy and energy storage industry in the UK's renewable energy industry, the event's P3 booth saw the showcasing of Astronergy's, ASTRO N5, ASTRO N5s, and ASTRO N7 n-type TOPCon PV module products.
ASTRO N7 and ASTRO N5 series are the module products launched by Astronergy to service the utility-scale power plants in Europe, while the ASTRO N5s series product mainly serves users in household scenarios.
For markets worldwide, Astronergy keeps refining and upgrading its products in accordance with local demands. By fine-tuning the side length of silicon wafers and changing the product size, the ASTRO N7 series of modules can increase the loading capacity of ship containers by approximately 10% compared to PERC+ modules, maximizing the use of container space and effectively increasing the encapsulation power of modules, thereby reducing the cost per kWh of power plants.
Acting as a tech promoter in the industry, Astronergy's n-type TOPCon would be a great tool for continuous green energy generation. The commitment to create a sustainable and net-zero carbon world leads Astronergy to dive into the PV industry to develop better tech of great performance and to expand high-reliability products to each tiny corner of energy demands. The UK is just one of the company's landing points for a greener world.